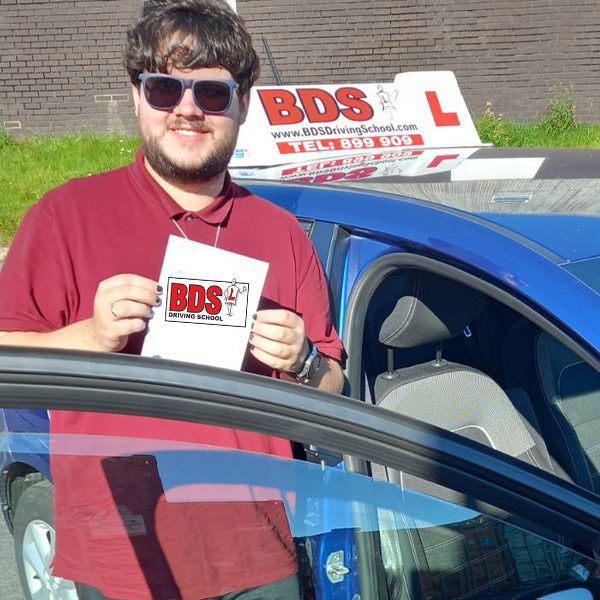 Another first-time pass with BDS Driving School. Congratulations to Callum Barbour on passing his driving test on 5th September, he already has a car and starts his new teaching careers this week. A full licence will make his commute to work much more pleasurable. Well done from your driving instructor Shane Mckenna and all the team at BDS Driving School.
"I spent my time with BDS with an amazing instructor called Shane; He is an incredible instructor and person, we had many lovely chats unrelated to my driving but my driving always took priority in the absolute best way, he was always willing to teach in a way that suited me best and accommodated to my tight schedule with ease. I went from someone who had learnt a bit about driving but was lacking in confidence and a lot of knowledge prior to my time with him to someone who is confident in his abilities and knowledgeable about how to drive, maintain and look after my car all thanks to this man. I will be suggesting him to anyone who is ever learning to drive and Donna who managed a lot of the backend communication and admin was fast, effective and I cannot thank both of them enough for how amazing they have been to me. Also, I passed first time!" Callum
---
BDS Driving School offer Manual and Automatic Lessons, we offer lessons on a weekly basis as well as Intensive Courses (Some call them crash courses). Male and female driving instructors available that cover the Fylde Coast from Fleetwood to Lytham.
Why not read 1000s of customer reviews for those who have passed their driving lessons with Blackpool Driving School. Click here to be taken to the reviews page
For more information on Shane McKenna who was the driving instructor who took Callum for his driving lessons – Click here
If you are looking to pass your test quickly why not consider our Intensive Courses – this is where you complete all your training and take your driving test in just 1 week – or less. With a guaranteed Blackpool Test on the last day of your intensive driving course. Click here for more information
BDS Driving School have been delivering driving lessons for more than 20 years – we have a reputation you can trust. We are a driving school – NOT a booking agent – all BDS Instructors work exclusively for Blackpool Driving School and you can read all about them on our Meet the Team Page.
Manual Driving Lessons with BDS Driving School