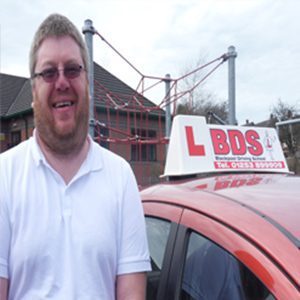 Simon Anson is an Intensive Course Specialist he provides 10 to 30 Hour 1 Week Manual Courses and Drives a Vauxhall Corsa
My son passed first time with BDS. 20 hour intensive course over a week preceded by some home instruction had him driving within 90 days of his 17th birthday. Donna was a whizz at all of the bookings and administration whilst Simon was highly professional with a brand new car and turned up to each and every appointment bang on time. I can highly recommend BDS on this basis.

Andrew Holden
"I just passed my test after doing the 30 hour intensive course with Simon Anson - definitely recommend as a very patient instructor who is easy-going and explains things very well. I have found learning to drive probably the hardest thing I've ever done - I left it late in life (38) because of issues relating to my autism, but I really wanted the independence and freedom of being able to drive. I'd tried several instructors before but the intensive course made such a difference in giving me the confidence behind the wheel, and helped everything click into place. It's definitely the best way to learn if driving doesn't come naturally to you." Lucinda

Lucinda Herbert
I undertook a 25 hour intensive course with Simon Anson of BDS, spread over 5 consecutive days with a practical test at the end, which I passed. I had had previous driving experience many years ago. Confidence issues had stopped me from taking the test back then, but Simon got me back up to speed immediately and by the end he had developed my confidence immeasurably. Simon's teaching style of practice makes perfect, anticipating the road and hazards ahead, and staying cool when things go wrong was the supportive environment I needed to flourish at driving. By the end of the week I was so confident that driving felt like second nature. I could not recommend BDS highly enough if you are looking at an intensive course as my experience was second to none. Huge thanks to Simon, but also to Donna, who took the time to listen to my situation at first point of contact. Pass or fail, BDS will look after you.

Ben Crosby
I was very nervous at first but Simon made me feel at ease straight away, Simon is one of best driving instructors I've ever been taught by specially on a crash course. I couldn't thank the man enough and couldn't recommend more then I can honestly 5 star all round experience 😁😁😁. Would highly recommend Simon without doubt 😁😁.

Neill Davies
Highly recommend BDS driving school.. especially Simon Anson. I booked a 20 hour course with him self. And I passed my test Friday just gone with only 1 minor driving fault. I wouldn't of done this without Simon so I am extremely grateful. Thankyou to everyone at BDS 😊

Kelly Fallon
Amazing driving school I've Been trying to pass my driving for 7years with a different instructor I found BDS driving school only 4 days before my test was due and they have help me so so much that I've finally managed to pass my test Simon my instructor was amazing and very patient with me. I 100% recommend BDS driving school to anyone trying to get their licence.

Rebecca Borowy
Amazing stuff, had 12 hrs in total and past with 2 faults. Simon taught be pretty awesome stuff if honest. Good stuff keep it up!

Thomas Bowman
BDS driving school have been fantastic for me! Simon is wonderful, very patient with me got me passed in no time. Lovely, friendly and re assuring people. Would highly recommend them as a school. If weekly lessons aren't for you this is definitely the best option.

Meg Rothery
FIVE STAR RATING !!! If you are looking to pass your theory AND driving test within a VERY short space of time then look no further as B.D.S helped me pass within just 6 days!!!......now that's fantastic considering I'd never drove before!! I want to thank DONNA for waiting up late to GET me the last possible slot to take my test and and I would also like to give a massive thanks to SIMON my instructor (even though he's a Liverpool fan and I'm a Man United fan) LOL that didn't get in the way of him going above and beyond to make sure I pass my test. I would highly recommend B.D.S as the best Driving school around!! THANK YOU xx #ItDoesWhatItSaysOnTheTin #FiveStarRating

Alan Forsyth
I can't recommend these enough, the tears the tantrums the panic attacks! The wanting to give up and Simon kept me strong kept me going. 20 hour intense course with an additional 3 hours and I passed on my 2nd attempt 100% recommend! The theory free app is amazing passed straight away with 50/50. The emotion support and the way I've been taught to drive is fantastic I honestly owe so much to Simon. Thankyou again for helping me on my way to freedom for me and my daughter 5* service and team I wish I'd done this years ag

Suzy Cook
I did the intense course just before Xmas with Simon and passed first time!! Would definitely recommend this course and Simon to anyone who is putting it off or feels nervous about driving!! Was the best thing I have done, for me and my two girls!!

Melissa Edwards
Brilliant driving school!!! Intense lessons are the best Passed in 19 hours over 5 days with the best instructor Simon. Being 38 isn't too late.. get it done. Pay a deposit and the rest before you start. Thanks BDS Thanks Simon

Katrina Holden
Fantastic reliable service, great contact throughout with Donna and other team members both online and via the phone. Easy and secure pay method. As for Simon, great sense of humour and very patient, as I didn't pass first time - nerves - sigh. Cannot recommend enough, fit around my work schedule. I took the intensive course as a major refresher first then Simon organised the rest for me afterwards. Thank You so much, will highly recommend B.D.S to everyone!

Kerry Steeden
Had Simon for my intensive course. 1st class, had me passed 1st time. Would highly recommend to anyone who is wanting to pass as quick as I did! Can't thank him enough. Great, reliable service. 5*

Jack Hayton
Thank you so much to BDS and Simon for not only teaching me to drive but also for never doubting me, my nerves were shot to bits this morning before I took my test and Simon was brilliant at calming me down and giving the courage to believe I would be ok, its going to make my life so much easier for myself and my kids especially as my partner is away 90% of the time, so essentially I'm doing it on my own and driving will make every day life a lot easier, thank you so much I honestly couldn't be happier x

Stacey Riordan-Carley
I've Just Passed My Test After Completing A 10 Hour Intense Course With Simon, I Couldn't Of Done It Without Simons Guidance & Confidence In Me. Simons Got A Great Sense Of Humour And Makes You Feel Totally At Ease! Would Highly Recommend!

Nicola Hargan
Had to leave a review about my driving instructor Simon!! I passed my test first time this week! Cannot recommend Simon enough! He is absolutely brilliant. I had no self confidence whatsoever, and lots of anxiety. Simon put me at ease from minute one! I've had a number of instructors , but Simon is the best instructor around!

Clair Greenwood
had Simon as my instructor and I have to say what a great guy!!!! helped me gain my Road confidence and pass my test first time!!! would 100% recommend 👌 had such great banter and load of laughs but all the hard work pays off. thank you soo much!!!!

Connor Dagless
Thank you BDS for helping me pass my driving examination. It is worth it. My instructor Simon was very patient, always on time, calm and easy to be with. BDS was very helpful in booking my exam dates and very flexible in my practice days. Highly recommended!

John Lozano
I passed first time with Simon on a 5 day course, started with not a lot of confidence and by the end felt very calm in my test

Ryan Calderwood
Can't recommend Simon enough. He got my 17 year old daughter through her test and we couldn't be happier. Thank YOU from the bottom of our hearts! 😊

Jeannie Eastham
I can't recommend BDS enough! I had Simon as my instructor and he never gave up on me and gave me the confidence, knowledge and positivity to get me through my test. If you are considering driving lessons or an intensive course I would definitely recommend BDS
Elle Collier