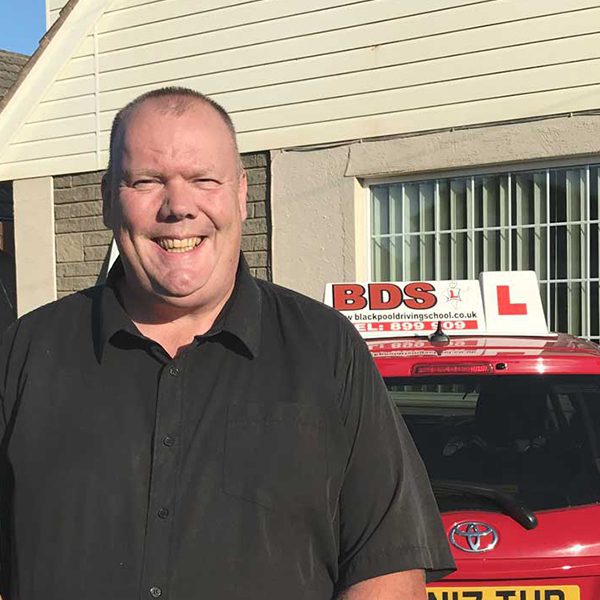 Paul drives a Toyota Yaris and teaches learner drivers as well as being one of our Instructor Trainers
---
I would highly recommend BDS, namely Paul tilling ! Great guy, brilliant teacher and a fountain of knowledge. Never had a single issue or problem with Paul while out on a lesson. I will definitely be passing his name on to friends and family in the future that require lessons

Danny Bend
Learning to drive with BDS has been a really positive experience despite the chaos of Covid this year. The app is brilliant and I accessed the Theory test materials through this and passed first time. I cannot recommend Paul Tilling and BDS enough, thank you

Amy Joanna
My instructor Paul Tilling I can't thank enough excellent driving instructor. Doing my driving test late in life Paul put me at ease and gave me the confidence to pass my test first time, all in 6 days. I would definitely recommend him.

Paul Blyth
Massive thank you to my instructor Paul! Paul has been the most calm, patient and informative instructor. He put me at ease straight away when I began my lessons and always maintained a positive outlook. Paul was always happy to go over any areas I felt were my weakest. I passed my test this morning and it's down to having a fantastic, very patient instructor! Thank you Paul and Blackpool Driving School!

Alice Dunlop
After years of on and off driving lessons with various driving schools, I found Paul Tilling to be the most patient & helpful instructor. Always made me feel at ease throughout lessons and got me to my first time pass! I would highly recommend BDS.

Emma Lloyd
Brilliant Driving school! Me, my brother and my mum have all successfully passed with B.D.S! My instructor Paul Tilling was so patient and encouraging! Highly Recommended 🙂

Jamie Brown
I would like to thank Paul Tilling at BDS, for teaching me to drive and helping me pass my test, overcoming my driving nerves. Every lesson was well delivered and also enjoyable. I'd recommended Paul to anyone who wants to learn to drive. He's patient, calm, friendly and explains things thoroughly and has no problem going over them until you feel comfortable with no question being too silly
Natalie Clark
A really amazing driving school, that I would recommend to all. A big thank you to my driving instructor Paul Tilling for helping me pass my test, making me comfortable and enjoy every lesson.

Emily Golden
I was extremely nervous to even get in the car. I never thought I'd see myself driving. Paul was so reassuring and a great laugh. I cannot recommend him enough. Not only is he an ace driver, he's a great teacher. He was very patient with my lack of confidence and would highly recommend him, especially for anyone more on the nervous side. BDS as a whole were great to work with, but especially Paul!

Holly Nesbitt
I'm over the moon, I passed my test with zero faults thanks to Paul! Great driving teacher he's very calm, nice and it's a comfortable drive! Paul explains questions and answers with full details which made me feel confident in my driving lessons because he made sure I understood what I needed to know! All round lovely and friendly teacher! I have recommended him and BDS to friends.

Ellie Walker
My instructor Paul helped me massively from start to finish which allowed me to become more confident when driving on the road. I would definitely recommend Paul to all new drivers.

Dylan Williams
Paul's a great instructor and would recommend him to anyone, always so kind and laidback but teaches you everything you need to know in order to pass your test. So glad I passed first time but I'm gutted I won't be driving around with Paul. Definitely get booked in with him.
Dylan Peake
Third times the charm for passing my driving test! Paul was an amazing instructor, nerves just got to me the first two times and he was a great help in building my confidence on the road.

AJ Jones
Passed first time, zero faults with Paul as my instructor. From the first lesson made me feel comfortable and at ease. Always made time for my lesson around work. Cant recommended him enough.

Sam Mecklenburgh
I started driving with BDS Driving School (Paul) after having so many driving instructors where I wasn't getting far with my lessons, since being with BDS , I've come on so much and today I finally passed my driving test! Paul made me feel so much at ease and less anxious when I was in the car. Thank you so much for teaching me how to drive and getting me where I need to be today! I can now go and enjoy the freedom in the car and not worry about busses anymore! Thank you again!

Emma Hover
Paul's a great teacher, nice guy and was always on time and always worked around the times I was available for lessons, overall it was brilliant.

Wesley Adams
As a nervous driver, Paul from BDS was absolutely outstanding. He was great at talking through manoeuvres and explaining any questions (or to just have a chat). I was with two prior instructors but none as efficient and brilliant as DBS, ensuring I got a test when I needed, and allowing me to pass my first practical with them. Thanks all 🙂

Charlotte Edwards