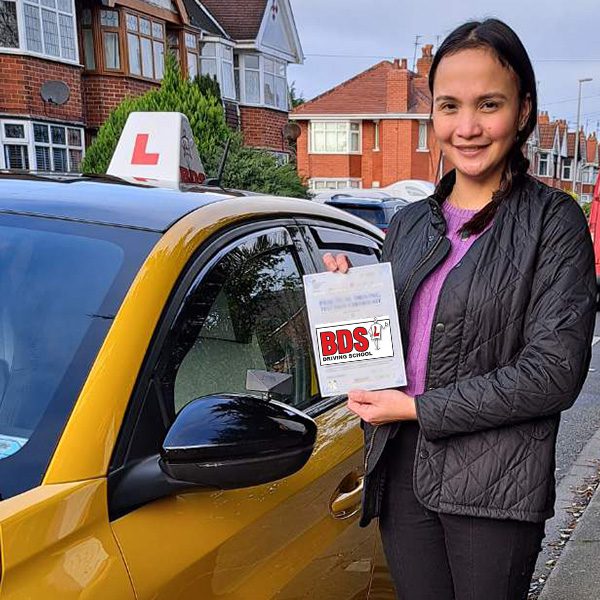 Another first-time pass with BDS Driving School after a 15 hour automatic Intensive Course. Well done to Abegail Abanador on passing her driving test on 27th January at Blackpool Test Centre. Abegail already has a car and is looking forward to days out. Well done from your intensive course specialist Mandy Kerr and all the team at BDS Driving School
"I would like to say a massive thank you to Mandy Kerr. She has been just an incredible teacher! I was really nervous about my skills but she really found a way to build my confidence and gave me some really useful tips on how to deal with my common mistakes. I think she tries to make lessons as personal as possible and it really made a difference! She knows the testing routes inside and out and what i need to look out for but even more than that, she made me feel like i can drive anywhere as I have developed the necessary skills to cope with different driving situations. Mandy really has a way of putting you at ease and making you a confident driver! If you are looking for a driving instructor, I can definitely recommend her even to the most nervous learner driver. Thank you for making me pass on my first try!
You are a star Mandy!
" Abegail
---
BDS Driving School offer Manual and Automatic Lessons, we offer lessons on a weekly basis as well as Intensive Courses (Some call them crash courses). Male and female driving instructors available that cover the Fylde Coast from Fleetwood to Lytham.
Why not read 1000s of customer reviews for those who have passed their driving lessons with Blackpool Driving School. Click here to be taken to the reviews page
For more information on Mandy Kerr who was the driving instructor who took Abegail for her 15 hour Automatic Intensive Driving Course– Click here
If you are looking to pass your test quickly why not consider our Intensive Courses – this is where you complete all your training and take your driving test in just 1 week – or less. With a guaranteed Blackpool Test on the last day of your intensive driving course. Click here for more information
BDS Driving School have been delivering driving lessons for more than 20 years – we have a reputation you can trust. We are a driving school – NOT a booking agent – all BDS Instructors work exclusively for Blackpool Driving School and you can read all about them on our Meet the Team Page.
15 Hour Automatic Intensive Driving Course with BDS Driving School